I wish I could remember where I got the idea for making Turkey Broccoli and Rice. I know I started making it when my husband and I first got together- it might have been one of those times I just found random ingredients in the pantry and put it all together. It's something that we make on a regular basis because it's so easy and filling. Not to mention tasty!
We love to make this with either leftover Chicken or Turkey (I usually freeze them 1 Cup portions) or canned chicken or sometimes we will cook a chicken breast on "the George" while the rice is cooking. During this next month or so I'm sure we will be making it with leftover Turkey from Thanksgiving! (See Also: 12+ Dinner Ideas from Leftover Turkey)
15 Minute Supper: Cheesy Turkey and Rice
Author:
Cook time:
Total time:
Ingredients
1 Cup Rice
3 Cup Water
3/4 Cup Frozen Broccoli
1/2 Tablespoon Montreal Steak Seasoning
3/4 Cup Cooked Chicken or Turkey
1 Can Cream of Chicken (or other "cream of")
1/2 Cup Shredded Cheddar Cheese (plus extra to add on top, if desired)
Instructions
Add the rice, water, broccoli, and seasoning to a pot, heat on high until boiling, then reduce heat to medium. When the water is semi-reduced add the cream of chicken, cooked chicken and cheese. Mix everything in and let the rice continue cooking for the full 15 minutes.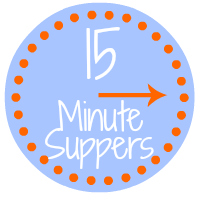 I hope you had a wonderful Thanksgiving, but I bet you probably have a ton of leftovers. That's why today, the #15MinuteSuppers bloggers are bringing you some tasty leftover ideas! Most likely you spent all day cooking yesterday, so take a break today and give one of these a try.
Follow 15 Minute Suppers on Facebook | Twitter | Instagram | Pinterest
and look for the #15MinuteSuppers hashtag too
Check out these scrumptious dinners from Thanksgiving leftovers and they only take 15 minutes:
Grandma's Turkey Soup from How To This And That
Turkey-Cranberry Panini from Better in Bulk
Sweet Potato & Turkey Hash from Around My Family Table
Mini Shell Pasta with Minced Meat from Food 4 Little Ones
If you are a blogger and you'd like more info, please check out the 15 Minute Suppers website or ask to join the Facebook group to participate on Fridays…we'd love to have you join us.