This dinner is so simple and easy it really doesn't need a recipe. After making it millions of times it has become a serious staple in our dinners at home but it's something that not everyone would think of making. I have to thank my mother-in-law and husband for coming up with this idea. We might starve without it some nights!
I also have to mention that it takes way less than 15 Minutes to make this, it took me about 7 minutes today but I had my sausage already chopped up from yesterday. We ate this last night and there weren't any leftovers so I had to make a second batch today.
15 Minute Supper: Spicy Sausage and Tots
Author:
Prep time:
Cook time:
Total time:
Ingredients
4 Spicy Hot Smoked Sausages
3 Cups Frozen Tater Tots
1/2 Tablespoon Montreal Steak Seasoning
Olive Oil Spray (Or another oil)
Instructions
First spray your skillet with the olive oil spray and let it heat up.
While your pan is heating up, slice your hot sausage.
Put your sliced sausage on the skillet, on medium heat.
While the sausage is cooking, defrost the tater tots in the microwave. I usually will just microwave them on normal heat for 1-3 minutes.
Move the sausage to one side of the pan. While doing so try to make sure that they are all flipped over so that they can cook evenly. They will cook until slightly blackened.
Add your defrosted tater tots to the skillet. Roughly chop them up with your spatula and add the steak seasoning to them. Mix them and let them cook until they start to turn golden brown and a little crunchy.
The sausage and tots should both be done cooking around the same time, if not either one should be fine if it cooks a little extra. They can be mixed up before being served (or even while they finish cooking).
The best part of this recipe comes from the ingredients- usually I am one to buy generic brands but not with these things- the Hot Smoked Sausage Links are from Bar-S and the Montreal Steak Seasoning is by McCormick. I'm not paid to advertise these brands, but I should be!
I love that we can make this with just a few dishes too- I tend to slice up the entire bag of sausage the first night we cook it and freeze it so that it's even easier to make the next time. Sometimes I get crazy and put them in single portion sizes with the tots so that if hubby or I want an easy lunch its right there and easy to make (and tons cheaper than a tv dinner).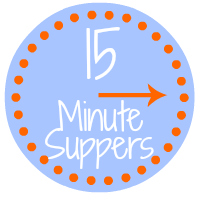 We have another wonderful week of #15MinuteSuppers for you…hope you enjoying them as much as we are. Get your family to the table fast without a lot of fuss with these fabulous ideas!
Follow 15 Minute Suppers on Facebook | Twitter | Instagram | Pinterest
and look for the #15MinuteSuppers hashtag too!
Easy Sloppy Joes from Around My Family Table
15 Minute Minestrone Soup from Better in Bulk
Julia's Grilled Chicken Salad from Songs Kate Sang
Creamy Bacon Cheeseburger Mac from How To This And That
Cheese Steak Salad from Just 2 Sisters
If you are a blogger and you'd like more info, please check out the 15 Minute Suppers website or ask to join the Facebook group to participate on Fridays…we'd love to have you join us.