This recipe originally came from my favorite cookbook (aka: the bible) but in more recent editions the recipe hasn't been included. I found this out after frantically calling my mom and comparing page numbers at the last minute one night before finishing up dinner as a newlywed. Since then I have countless scraps of paper reminding me of the recipe and I have come up with a few additions to our Chicken a la King recipe that add a bit more flavor.
15 Minute Supper: Classic Chicken a la King
Author:
Cook time:
Total time:
Ingredients
6 Tablespoons Butter
1/4 Cup Chopped Onions
1/2 Cup Flour
3/4 teaspoons Salt
1/8 teaspoons Pepper
2 Cups Milk
1 Cup Water
1 Chicken Bullion Cube
1/8 teaspoon Montreal Chicken Seasoning (optional)
2 Cups Chicken
1 Can Mushroom (optional, from original recipe but I never add them)
Toast (can substitute with noodles, rice, etc.)
Instructions
Melt the butter and add the onions, let them saute for a few minutes.
Add the rest of the ingredients minus the chicken and mushrooms and cook on medium heat until thick and bubbly.
Add chicken and mushrooms until heated.
Serve over toast.
If you loved this recipe as much as we do- here is an added twist to add more vegetables and make it a little healthier! Click here for Green Chicken a la King. It is an amazing twist to this recipe as long as you can get your head around the color!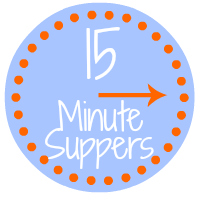 Follow 15 Minute Suppers on Facebook | Twitter | Instagram | Pinterest
and look for the #15MinuteSuppers hashtag too!
Chicken Scallopine from Around My Family Table
Classic Chicken a la King from Monzanita's
Mango Chutney Chicken from Better in Bulk
Thai Chicken Lettuce Wraps from Jen's Journey
Unstuffed Paleo Cabbage Rolls from Confessions of an Overworked Mom
Ranch Clam Chowder from Just 2 Sisters
If you are a blogger and you'd like more info, please check out the 15 Minute Suppers website or ask to join the Facebook group to participate on Fridays…we'd love to have you join us.