First of all, I want to give a shout-out to our Sponsor, Gourmet Gardens. They sent me some awesome fresh spices tubes to use in this dinner. To all of my friends: I can't believe you never told me this type of product existed! I am so thrilled to have the chance to try out the different types of spices that Gourmet Gardens offers. I thought that my only two options for spices were fresh or dried. I'm so excited to have a way to eat fresher food but still have the convenience of being able to easily pull these out of the fridge or the freezer. See Gourmet Garden's full line of Herbs and Spices here.
There are four main things that go in our Burrito Mix: Beans, Rice, Chicken, and Salsa. We also use cheese as a topping.
Beans and Salsa
Beans and Salsa are usually the easiest parts of our burrito mix. I use canned beans, usually Great Northern Beans or Pinto Beans. I used to have to kind of smash the beans up so that my husband would eat them, but luckily after a few years of eating this he is used to eating beans now.
Usually I use store bought salsa, but I didn't know that we were out of it until I had already started everything else- so this time I made my own salsa as well. If you are quick with chopping it could be done in the 15 Minutes as well. It took me quite a bit longer because of my little helper in the background.
My salsa doesn't look the prettiest, and I'm not even going to give you a recipe because it was mostly just stuff I happened to have around the house- tomatoes, frozen peppers, frozen onions, as well as the spices from Gourmet Garden- Cilantro and Chili Pepper. I chopped and threw all of that together and blended it in the blender. We used approximately one cup of salsa for the burrito mix.
Chicken
The chicken is another pretty easy ingredient- leftovers from earlier in the week. We had grilled chicken with Montreal Steak Seasoning earlier in the week, and it went perfectly with the rest of the burrito mix.
I used about one chicken breast and shredded it in the blender- it took approximately 10-15 seconds. More chicken is always better in our house though!
Rice
The rice is the most time consuming so be sure to start making it first. The rice itself is very tasty and would be a great side dish to any type of Mexican food or otherwise! I used the Gourmet Gardens Lemon Grass and Cilantro this time- it turned out amazing and reminded me of Chipotle's Rice that I have been craving.
Rice to add to the Amazing Burrito Mix
Recipe Type
:
15MinuteSuppers
Author:
Cook time:
Total time:
Ingredients
1 Cup Dry Rice
2 1/3 Cups Water
2 Tablespoons Olive Oil
1/2 teaspoon Taco Seasoning
1/2 teaspoon Gourmet Gardens Lemon Grass
1/2 teaspoon Gourmet Gardens Cilantro
Instructions
Add the rice, water, olive oil, taco seasoning and Lemon Grass to a small pot. Heat on high until boiling. Reduce heat to medium, so that it is still boiling.
When there is hardly any water left, add the Cilantro and let the rice continue cooking for a minute or two. Now the rice should be ready to add to the rest of the burrito mix. (Or dished up as a side dish to something else)
Mixing the Burrito Mix
Once everything is ready, all that needs to be done is to mix the burrito mix together. We prefer a mix, because it makes for easy lunches for the next couple of days and it tastes so much better to have everything mixed in.
So I've already mentioned it above, but we use 1 can of beans, 1 cup of mild salsa, 3(ish) cups of rice and 3(ish) cups of shredded chicken. You can work with the sizes of everything depending on what you have around the house and what your family likes too!
I have been meaning to get a bowl back from a neighbor- but I tried putting everything in a smaller one. Needless to say, it didn't work. I just wanted to explain why the burrito mix was put into a Christmas bowl for awhile.
After everything is mixed, it can be dished onto a tortilla. We then will sprinkle cheese on top, and sometimes add more salsa. If you need to melt the cheese or heat up the burrito make sure to heat it up before folding it.
That's it! All of this can be done in 15 minutes and you will have a delicious dinner for your family! Everyone in my family loves this dinner- especially my two year old son (as long as he doesn't eat all of the ingredients before they are put together- he must have drank a 1/2 Cup of Salsa this time!).
Before you take the time to make this recipe see if you can score some of the ingredients from Gourmet Gardens for free! They are providing the same line of refrigerated spices that I received! See my Instagram post here.
We are so excited to be partnering with Gourmet Garden this week. Gourmet Garden offers convenient herbs and spices in tubes that make creating #15MinuteSuppers a breeze. No washing or chopping required…just squeeze in some herbs to quickly flavor your suppers! Need more quick 15 minute recipe ideas? Check out these other great #15MinuteSuppers from some of my friends!
Follow 15 Minute Suppers on Facebook | Twitter | Instagram | Pinterest and look for the #15MinuteSuppers hashtag too!
Head over to our #15MinuteSuppers Pinterest Board to see all the past recipes and more delicious goodness!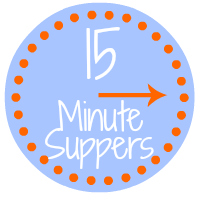 BLOGGERS: Would you like to join us at #15MinuteSuppers?
We'd love to have you! Please check out the
15 Minute Suppers
website or ask to join the
Facebook group
(for bloggers) to participate on Fridays…we'd love to have you join us.
Disclosure: This is sponsored recipe for Gourmet Garden through 15 Minute Suppers. Recipe & opinions are my own.