My husband came up with Chili Cheese Dog Casserole a couple years ago but when I made it for him just recently he had forgotten all about it! This is my favorite easy dinner to make after making a huge batch of chili– it seems new and different but it's a great way to use the leftovers. If you don't have leftover chili, canned chili works well too!
15 Minute Supper: Chili Cheese Dog Casserole
Author:
Cook time:
Total time:
Ingredients
4 Cups Chili
3 Cups Hash browns
3 Hot Dogs (Sliced)
1 Cup Cheddar Cheese
Instructions
First cook the hashbrowns and sliced hot dogs.
Set 1/2 Cup Cheese to the side, and mix all of the other ingredients together in a pot on the stove, until the cheese is melted and everything is warm.
Top each serving with the cheese you set aside in the beginning.
When I made this the last time I left out the hot dogs because I made our Sausage Link Chili– and the sausage was too much like hot dogs so they didn't need to be added.
Need more quick suppers? Check out these other great #15MinuteSuppers!
Follow 15 Minute Suppers on Facebook | Twitter | Instagram | Pinterest
and look for the #15MinuteSuppers hashtag too!
Head over to our #15MinuteSuppers Pinterest Board to see all the past recipes and more delicious goodness!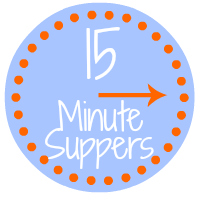 BLOGGERS: Would you like to join us at #15MinuteSuppers? We'd love to have you! Please check out the 15 Minute Suppers website or ask to join the Facebook group (for bloggers) to participate on Fridays…we'd love to have you join us.