One of our favorite local restaurants, Uncle Bear's, makes a great Cajun Chicken Alfredo. When I was trying to copy it one night I found a great way to have an easy but delicious dinner- and it can be made in 15 minutes!
A quick shout out about one of the added ingredients- Bella Sun Luci's Sun Dried Tomatoes were given to me at Blended Confrence, they were one of the sponsors there. Thanks BlendedConf and Bella Sun Luci!
15 Minute Suppers: Cajun Chicken Alfredo
Author:
Prep time:
Cook time:
Total time:
Ingredients
1 Jar Alfredo Sauce (dry packets are also easy)
1/3 C Bella Sun Luci Sun Dried Tomatoes (optional)
Linguine Noodles
Raw Chicken Breast
Cajun Seasoning
Grated Parmesan
Instructions
First start boiling a bowl of water for your noodles. I add a little salt to keep the noodles from sticking and to help the water come to a boil quicker. Once you hear the water boiling make sure you add your noodles. When they are done cooking you can drain them as well.
Switch modes while your water is boiling and cut up your chicken into thinner slices. This will help it cook faster, and allow the seasoning to cover more area. Once the chicken is cut, cover as much of it as you can with the cajun seasoning. Cook the chicken on 'the george' as we call it, or on a skillet.
While both the chicken and the noodles are cooking you can get the sauce ready. This is the easiest part as you are really just heating it up. Put the sauce in the pot and cook it on medium. Also add your sun dried tomatoes.
Once your noodles and chicken are done cooking you can put everything together. Put the drained noodles on your plate and add some sauce. You can also put a couple pieces of chicken on your plate and sprinkle everything with some Parmesan Cheese.
We have a small family, so this is enough for us. For bigger families it is easy to double, triple or quadruple the recipe. It shouldn't take too much longer. There you have it, a delicious dinner in 15 minutes. Try it tonight!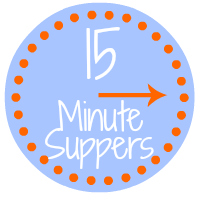 I'm so excited to be joining with a great group of bloggers every week to share 15 Minute Suppers with you. 15 Minute Suppers is all about getting supper on the table quickly with a homemade meal. All of the recipe shared are super easy take only 15 minutes or less to get on the table. Our lives are so busy that sometimes it's hard to find time to sit down together at the table for supper. Well, say bye bye to the 30 minute suppers and HELLO 15 Minute Suppers!
Follow 15 Minute Suppers on Facebook | Twitter | Instagram | Pinterest
and look for the #15MinuteSuppers hashtag too
You have to check out these 6 fabulous 15 Minute Suppers:
Easy Taco Burgers from Around My Family Table
Sesame Chicken Salad from Better in Bulk
Homemade Beef & Bean Chili from How To This And That
Italian Couscous with Sausage from Suburbia Unwrapped
Paleo Shrimp Salad Recipe from Confessions of an Overworked Mom
Healthy Pesto "Spaghetti" from Mindfully Frugal Mom
If you are a blogger and you'd like more info, please check out the 15 Minute Suppers website or ask to join the Facebook group to participate on Fridays…we'd love to have you join us.